Overview
In June 2020, District Metals acquired 100% of the Trollberget Property located in the prolific Bergslagen Mining District of south central Sweden from EMX Royalty Corp. (TSX-V:EMX). The Bergslagen is known for world class polymetallic mines such as Boliden's Garpenberg and Lundin Mining's Zinkgruvan. The size and scale of these mines has only been revealed within the last two decades through a better understanding of the associated polymetallic VMS/SedEx mineralizing systems, and through advances in drilling and mining technology.
Trollberget is an early stage exploration property with the following highlights:
Trollberget covers an area of 333 ha, and is located 180 km northwest from Stockholm in Sweden.
The property is well traversed with roads, railway, and power lines. Sweden has numerous deep water ports, and five smelters are active in the Nordic region.
Boliden's Garpenberg Mine is located 30 km to the southeast, and the historic Falun Mine is located 17 km to the west. Lundin's Zinkgruvan Mine is located 180 km to the southwest.
Trollberget contains the same host rocks, structure, alteration, and mineralization as the Garpenberg, Falun, and Zinkgruvan Mines.
Two historic mines, and numerous mineralized showings are situated along more than a 17 km trend on the property. Mineralization at the historic Tomtebo and Lovas Mines appears to be open in all directions.
Modern systematic exploration has never been carried out on the Tomtebo Property.
Figure 1: Location Map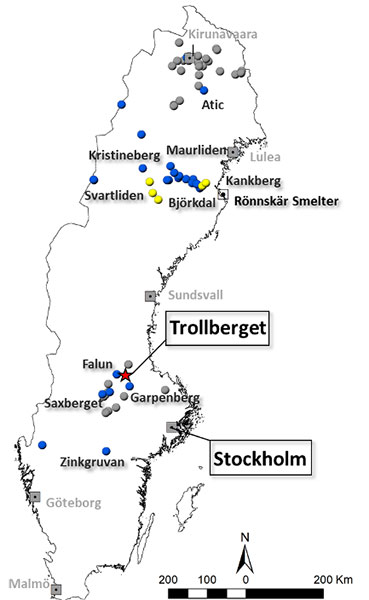 Bergslagen Mining District
The Bergslagen District is composed largely of supracrustal rocks dominated by felsic metavolcanic successions with limestones and calcsilicates, along with pre- to post-tectonic intrusive rocks located in south central Sweden. The region was folded and metamorphosed to upper amphibolite facies during the Svecofennian orogeny (1.9 to 1.8 Ga).
The district hosts thousands of mineral occurrences, including polymetallic Zn-Pb-Ag-Cu-Au sulphide and iron oxide deposits, Fe oxide skarn, banded iron formation, Fe oxide apatite, Mn oxide, and subordinate granite-pegmatite–hosted molybdenite and W skarn deposits1.
Figure 2: Bergslagen Mining District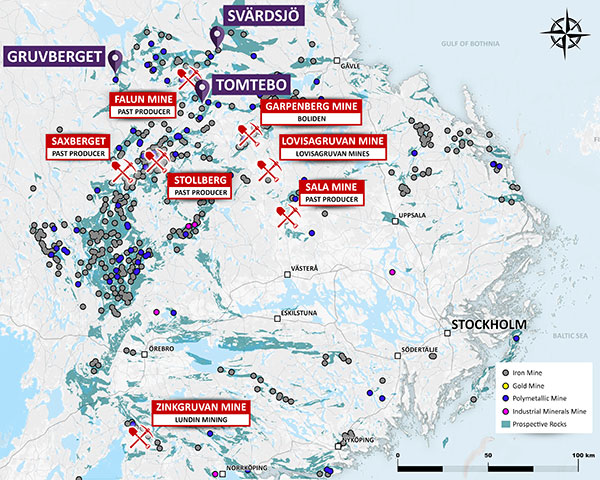 Table 1: Bergslagen District Production, Reserves, and Resources
Mine/Deposit
Tonnage of Production, Reserve, or Resource with Grades
Falun Mine1
28.1 Mt Production at 2–4% Cu, 2-4 g/t Au, 4% Zn, 1.5% Pb, 13–25 g/t Ag
Garpenberg Mine2
54.4 Mt Production at 132 g/t Ag, 4.9% Zn, 2.0% Pb, 0.3 g/t Au
Garpenberg Mine2
89.5 Mt P&P at 94 g/t Ag, 2.8% Zn, 1.3% Pb, 0.3 g/t Au, 0.04% Cu
Garpenberg Mine2
36.6 Mt M&I at 90 g/t Ag, 2.8% Zn, 1.4% Pb, 0.35 g/t Au, 0.06% Cu
Garpenberg Mine2
25.5 Mt Inferred at 57 g/t Ag, 2.5% Zn, 1.4% Pb, 0.4 g/t Au, 0.07% Cu
Tomtebo Mine3
0.12 Mt Production at 4.4% Cu
Lovas Mine4
0.33 Mt Production at 3.5% Zn, 2.5% Pb, 30g/t Ag
Zinkgruvan Mine5
19.3 Mt Production at 9.9% Zn, 4.0% Pb, 84 g/t Ag
0.9 Mt Production at 2.0% Cu
Zinkgruvan Mine5
11.9 Mt P&P at 7.9% Zn, 2.9% Pb, 63 g/t Ag
Zinkgruvan Mine5
5.2 Mt P&P at 1.8% Cu, 0.2% Zn, 26 g/t Ag
Zinkgruvan Mine5
15.7 Mt M&I at 9.3% Zn, 3.7% Pb, 84 g/t Ag
Zinkgruvan Mine5
5.0 Mt M&I at 2.3% Cu, 0.3% Zn, 32 g/t Ag
Zinkgruvan Mine5
9.4 Mt Inferred at 8.5% Zn, 3.5% Pb, 81 g/t Ag
Zinkgruvan Mine5
0.2 Mt Inferred at 2.3% Cu, 0.3% Zn, 25 g/t Ag
Sala Mine1
5.0 Mt Production at 150-3000 g/t Ag, 12% Zn, 1.5% Pb
Stollberg (Gransgruvan Mine)6
6.7 Mt Production at 7.7% Zn, 2.6% Pb, 60 g/t Ag
Stollberg (Tvistbo Mine)7
0.58 Mt Production at 3.3% Zn, 2.6%, 22 g/t Ag
Saxberget Mine3
6.43 Mt Production at 42.2 g/t Ag, 0.4 g/t Au, 0.9% Cu, 2.2% Pb, 7.1% Zn
Lovisagruvan Mine8
1.15 Mt Production at 9.4% Zn, 5.3% Pb, 10-20 g/t Ag
Svärdsjö Mine9
1.03 Mt at 112 g/t Ag, 6.0% Zn, 2.7% Pb, 0.6% Cu and 0.4 g/t Au
Figure 3: Northern Bergslagen Mining District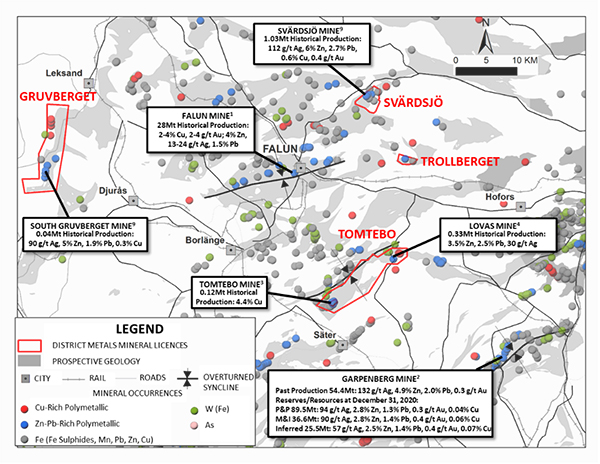 Figure 4: Trollberget Property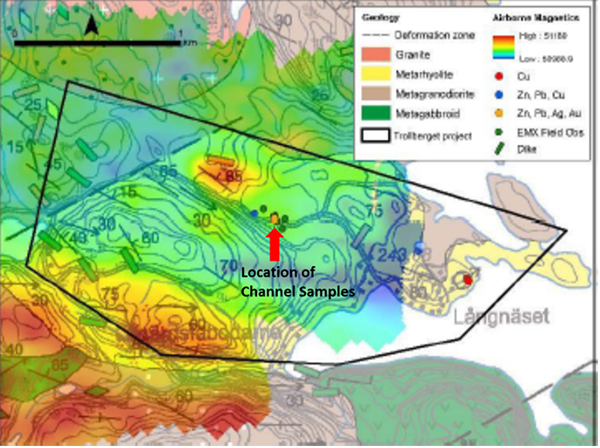 Historical Work
Outcropping VMS-style mineralization occurs in the center of the mineral claim, and several other base and precious metal showings are present on the Property. Two historic drill collars have been located by EMX Royalties Corp. in the field, but they do not appear in the national drilling database for Sweden, and their significance remains unknown. The drill holes are presumed to be from the 1950's era, based on other information. The mineralization exposed at Trollberget remains open along strike.
Recent Exploration Work
In 2006, the Trollberget Property was flown with SkyTEM (airborne electromagnetic survey), which at that time only had a depth penetration of approximately 200 m. The 2006 SkyTEM survey identified conductive anomalies that have not been drill tested.
In 2007, two channel samples located 25 m apart were recovered across the outcropping VMS-style mineralization, and returned:
1.5 m at 21.4% Zn, 1.8% Pb, 1.3% Cu, 131 g/t Ag and 2.3 g/ t Au.
2.0 m at 9.9% Zn, 1.2% Pb, 0.7% Cu, 85 g/t Ag and 0.2 g/ t Au10.
Figure 5: Property Geology and Magnetics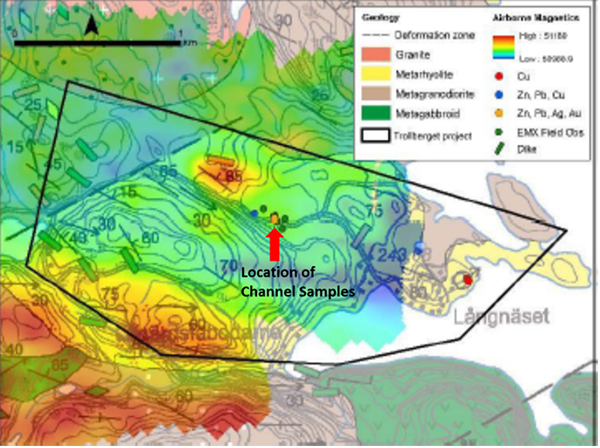 References:
1 Allen, R.L., Lundström, I., Ripa, M., and Christofferson, H., 1996, Facies analysis of a 1.9 Ga, continental margin, back-arc, felsic caldera province with diverse Zn-Pb-Ag-(Cu-Au) sulfide and Fe oxide deposits, Bergslagen region, Sweden: Economic Geology, v. 91, p. 979–1008.
2 https://www.boliden.com/globalassets/operations/exploration/mineral-resources-and-mineral-reserves-pdf/2020/resources-and-reserves-garpenberg-2020-12-31.pdf
3 Ed. Eilu, Pasi, 2012, Geological Survey of Finland, Special Paper 53, Metallogenic areas in Sweden.
4 Geological Survey of Sweden report grb_097, 1997.
5 Daffern, T., Ellis, R., King, P., Richardson, S., Glucksman, E., Beveridge, A., 2017, NI 43-101 Technical Report for the Zinkgruvan Mine, Sweden, Wardell Armstrong International.
6 Raat, H., Jansson, N.F., and Lundstam, E., 2013, The Gränsgruvan Zn-Pb-Ag deposit, an outsider in the Stollberg ore field, Bergslagen, Sweden: Geology Applied to Mineral Deposits, Biennial Meeting, 12th, Uppsala, Sweden, August 12–15, 2013, Proceedings, p. 12–15.
7 Kopparberg Mineral (unpub. annual report, 2012)
8 Jansson, N.F., Sädbom, S, Allen, R.L, Billström, K, Spry, P.G., 2018, The Lovisa Stratiform Zn-Pb Deposit, Bergslagen, Sweden: Structure, Stratigraphy, and Ore Genesis: Economic Geology (2018) 113 (3): 699–739.
9 Sveriges Geologiska Undersökning (SGU) Map Viewer: https://apps.sgu.se/kartvisare/kartvisare-malm-mineral.html
10 Tumi Resources Ltd. News Release, September 4, 2007. True widths of the channel samples unknown.